This car came with the L75 U-Code Rocket 455 engine that had a "net" rating of 250 horsepower at a mere 4200 rpm and 370 ft. lbs. of torque at just 2800 rpm. There was also an L75 V-code engine rated at 270 horsepower at 4400rpm. Other original specifications:


8.5:1 compression ratio (actual was closer to 8.1:1)

2.00" intake and 1.684" exhaust valves

.435 lift camshaft (part number 400117)
Quadrajet carburetor (part number 7042251)
Rarity of '72 W-29 442 with 455 and 3600 series L75 455 Production
The majority of '72 442's (non W-30) originally came with a Rocket 350 engine. The 350 was the standard engine in the Cutlass, whether the car was 442-optioned or not (again not including the W-30 which came with a 300 horsepower 455). Below are some production figures that support the above statement:
80%, or 7,281, of the 9,073 non W-30 442s were 3600 series cars, which includes the Cutlass S Hardtop and Sport, Cutlass Cruiser Wagon and Cutlass Town Sedan; the 442 option was not available for the latter two. The remaining 20%, or 1,792 442s, were the Cutlass Hardtop (3200 series) and Cutlass Convertible (4200 series), some of which were also produced with the L75 455.
Now comes the information that makes my Cutlass S a bit rarer than I originally thought. Production through June 1972 (July is unavailable), just 2,359, or <2%, of the 129,474 3600 series cars were produced with the L75 455 engine. Even though the number of those 2,359 cars that were also W29 442-optioned is unknown, a '72 Cutlass 'S' with the original W-29 and L-75 options is a fairly rare car.
*** Recently a fellow Olds enthusiast on www.classicoldsmobile.com made me aware of documents that he received from the GM Heritage Center in 2007. Included were several handwritten pages of actual production records for 1972 along with this:
"Total W29 - 9845. W29 / 455 / 4bbl / 2711 / = 27.5%"

The W-29 total also included the 772 W30 cars. With that, one could say that a total of 1,939 cars were manufactured with the W-29 option and L-75 (U and V code) 455 engine.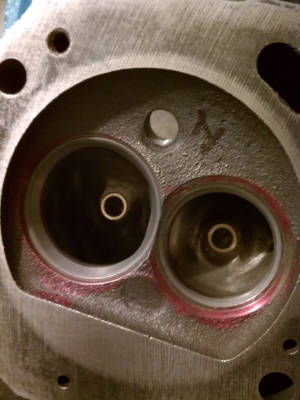 Intake short turn requiring more work after valve job.
I did a little bowl work on the heads and had Competition Engine Service in Ashland, VA swap the original 2.00" / 1.684" valves for stainless 2.07" / 1.71", install bronze guides, and perform a three-angle valve job. After getting the heads back, i ended up having to do more work on the intake short side radii because of the larger 2.07 valves (obvious in above picture). The engine now has a true 9.0:1 compression ratio (heads now with 70cc chambers after being milled "a ton", .011 Cometic shim head gaskets, and pistons .035 below deck). The stock original 194/207 duration .435 lift cam was replaced with a Speed Pro 214/224 duration camshaft. With the Crane 1.61 ratio stamped steel rockers, the total lift should theoretically be .475/.499. Lastly, using a set of Crower adjustable pushrods, i was able to fine tune lifter preload to approximately .020.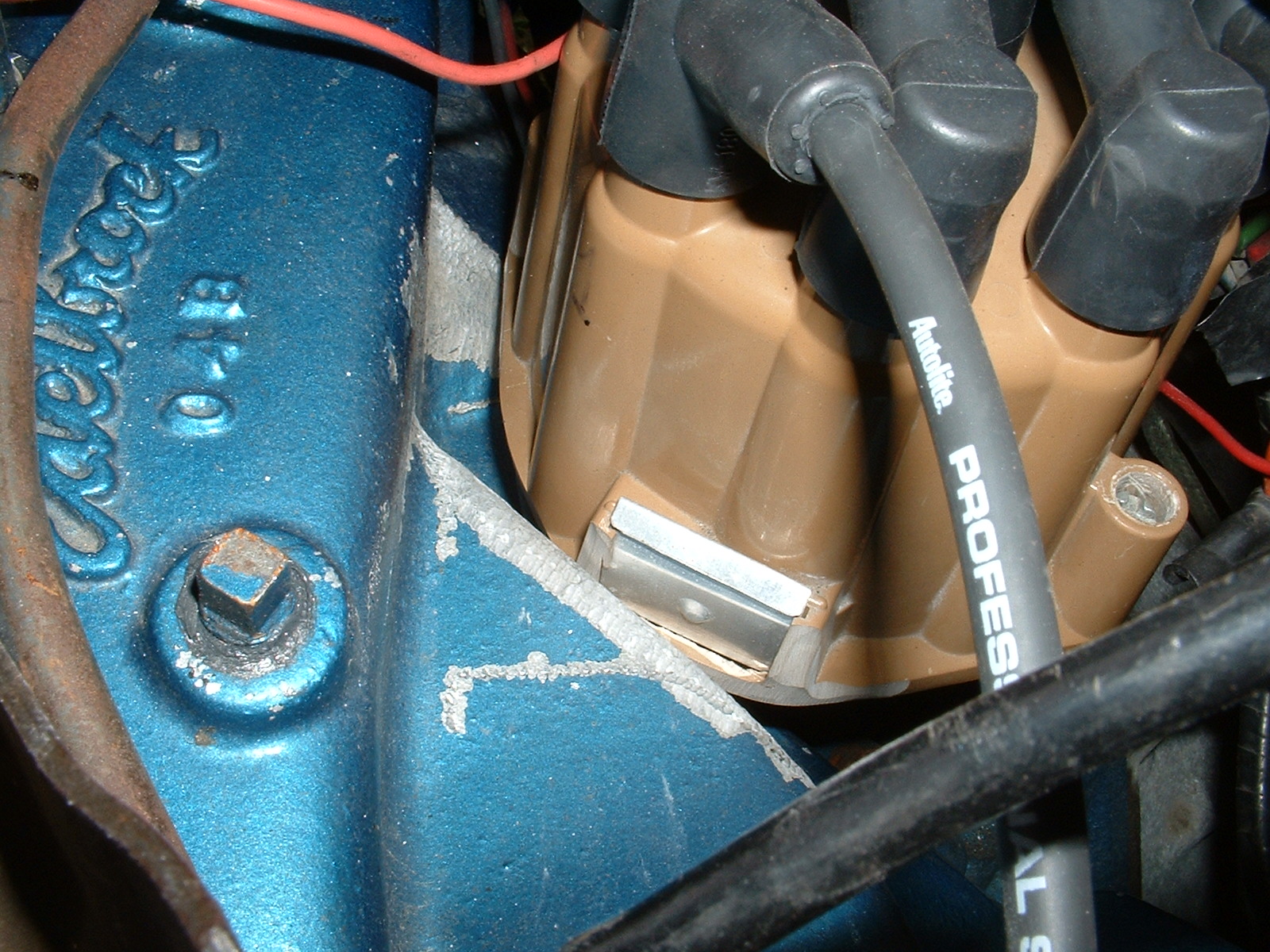 O4B and distributor cap = tight fit
I replaced the stock 60-lb. cast iron intake manifold with a 20-lb. Edelbrock O4B aluminum piece from the 1970's. This manifold has slightly taller and wider runners compared to the stock unit yet retains a stock appearance. During installation of the O4B intake, i found out that it rubbed up against the distributor cap. I had to grind material from the intake manifold and distributor cap to gain clearance.
Additionally, I recurved the distributor and replaced a deteriorated Pertronix Ignitor with a Crane XR-i electronic ignition module which was much easier to install than the old-style Pertronix. This engine hasn't seen points since 1995.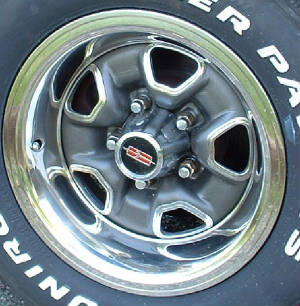 15" SSII bolt-on center cap wheel
I always felt the 14" Oldsmobile Super Stock rims looked small on the car, so i replaced them with the somewhat rare 15" bolt-on center cap version from a 1974 Cutlass. I used Eastwood's DeKote to strip several layers of paint and painted the rims with Eastwood's charcoal gray.